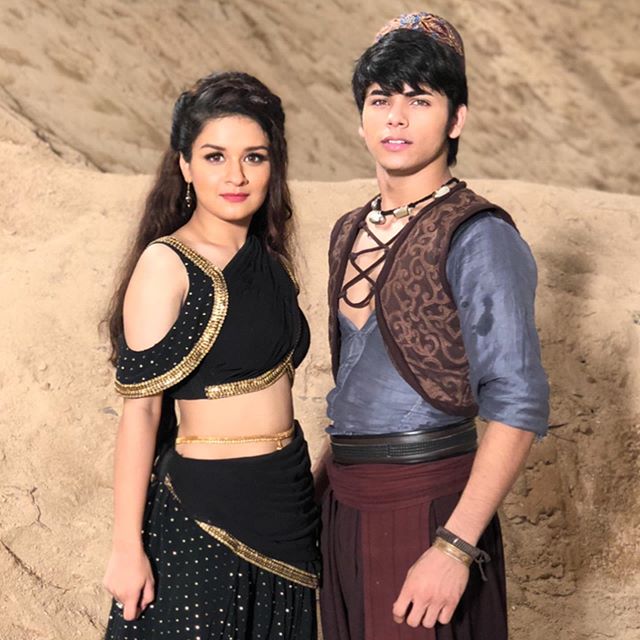 ABOUT
Siddharth Nigam is a popular TV actor and is also famous for his Tik Tok videos. In a very short time, he has managed to achieve a lot of fame and name. He started his career from advertising, after that he was given his first break in the movie Dhoom 3. Due to his excellent performance in the movie, he was successful in getting work in the TV Industry. Since, then he has been part of many TV Shows. He has also been felicitated by awards due to his good acting skills and the magic he does on the screen.
The show "Chakarvarti Ashok Samrat" gave him the platform to be known in every Indian House. He started to be called by the name of Ashok. For this particular show, he received many awards and recongnization. He has also been featured in many music videos. The videos he keeps posting on his Tik Tok account also makes him very famous. People love his short videos and are all mad towards him. Due to been telecasted in many shows he has managed to get a lot of fan following and is very popular in the young generation. He has a lot of followers on social media and also he keeps doing brand advertisement on his accounts.
BIOGRAPHY
| | |
| --- | --- |
| Full Name | Siddharth Nigam |
| Nick Name | Sid |
| Tiktok User Name | @siddharthnigam13 |
| Tiktok Followers | 8.5 M |
| Likes/Hearts | 125.6 M |
| Instagram | @thesiddharthnigam |
| DOB | 13 September 2000 |
| Zodiac Sign | Virgo |
| Girlfriend | Single |
| Debut | Dhoom 3 |
| Hobbies/Interest | Gymnastic & Cycling |
| Profession | Actor |
AGE
Siddharth Nigam is 20 years old. He was born on 13 September 2000.  Every year, he celebrates his birthday with great parties and his friends never fail to make birthday special for him.
RELATIONSHIPS
Siddharth Nigam has never been open about his relationships. And whenever ask about this, he has always said that he do not want to come into relationship for now and just want to focus on his career. However, he has been linked with her best friend and co star "Avneet Kaur". They both have done many shows together and they also keep making videos with each other. People like the duo very much and that is why they keep linking them together.
However, when asked about this, Siddharth has always made clear that he is single and Avneet is his good friend. Making romantic videos does not confirm a person's relationship. They both enjoy each other company as a friend and it is nothing beyond friendship. They make such videos because they enjoy making it and people love their videos.
FAMILY
Siddharth is initially from Allahabad, India. The name of his father is Late Mr. Ramvir Tokar and name of his mother is Pramila Tokas. The name of his brother is Abhishek Nigam. His father died when he was very young. His mother runs NGO and beauty salon. Siddharth had spent all his childhood in Allahabad. He has done his class X from Allahabad. He is very good at Gymnastics and has won gold medal in parallel bar. Later, Siddharth has won a gold medal at national-level gymnastics.
He is from a middle class family. He shares that he is very close to his mother. Since, he has achieved many things in his career at such a small age and manages to earn a good amount of money, his parents are very proud of him. He gives the credit of his success to his family. He shares that his family has been very supportive and has always encouraged him to do whatever he wants.
| | |
| --- | --- |
| Father | Late Mr. Ramvir Tokas |
| Mother | Pramila Tokas (Vibha Nigam) |
| Brother | Abhishek Nigam |
| Sister | – |
EDUCATION
Saiddharth Nigam has completed his schooling from Khelgaon Public School, Allahabad. He was overall a good student and participated actively in the co curriculum activities of his school. Also, since he liked gymnastics very much he had been received many awards at the school level competitions.
| | |
| --- | --- |
| Highest Qualification | Still Studying |
| School Name | Khelgaon Public School |
| College Name | – |
PERSONAL DETAILS
He is a handsome guy with height 5 ft 6 inches. He has a charming personality and his hair style is also loved by many of his fans. There are so many things that are attractive in him and that makes girl go all crazy behind him. He belongs to a Hindu family. He follows his religion happily and respects all the other religion. He actively participates in all the festivals and celebrates with whole enthusiasm.
| | |
| --- | --- |
| Height | 5 ft 6 inches |
| Weight | 55 kg |
| Eye Color | Black |
| Hair Color | Black |
| Home Town | Mumbai, Maharastra |
| Birth Place | Allahabad, Uttar Pradesh |
| Religion | Hinduism |
| Caste | Updated Soon |
| Education | Still Studying |
| Nationality | Indian |
INCOMES
His good acting skills had made it possible to get many shows for him and that is why his net worth is one of the highest any young actor is getting. He has been very popular in his field and that is why he is able to earn through many mediums like web shows, TV shows and music videos. Also, he keeps doing brand advertisement and that is also a huge source of his income.
| | |
| --- | --- |
| Net Worth | US $ 4 Million |
| Income Source | TV Shows, Music Videos, Brand Advertisements |
| Salary | 50,000 INR(Each show) |
FAVORITE'S OF SIDDHARTH NIGAM
TV SHOWS/MUSIC VIDEOS
He has done many shows and movies due to his hard work. Let me name his work for you.
| | |
| --- | --- |
| SHOWS | YEARS |
| DHOOM 3 | 2013 |
| MAHA KUMBH | 2014 |
| CHAKARVARTIN ASHOKA SAMRAT | 2015 |
| PESHWA BAJIRAO | 2017 |
| CHANDRA NANDINI | 2017 |
| ALADDIN | 2018-Present |
| KUCH SMILE HO JAYE | 2020 |
He has been so famous that people have offered him many music videos, web shows and TV shows. Recently, he has worked in music videos of T-Series and Zee Music. His music videos have got many views and had made him more famous.
Let me name some of his famous videos for you:
YAARI HAI
LUCK DI KASAM
GAL KARKE
RINGTONE
ZAROORI HAI KYA ISHQ MEIN